[ March 21, 2009 ]
A 42/42 palindromic/pandigital Bi-Forked Wheel
B.S. Rangaswamy (email)
new offshoot from wonplate 175

It is an elating coincidence, that on palindromic date 9.03.09,
it was possible for me to arrive at a 42/42 palindromic pandigital
bi-forked wheel, which is illustrated further on.
This wheel contains the pandigital 1937452608 twice as product of
two different sets of palindromes as below :


63936 x 30303 = 1937452608 = 90909 x 21312

Click the image to get a HD illustration of BFW 42
[ dimensions 1533 x 1710 ].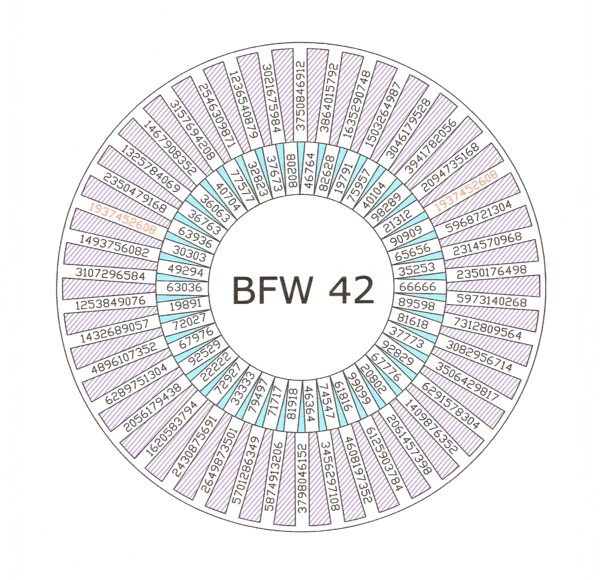 This may not be the biggest wheel. It is left to others to discover
the wheel with maximum number of bi-forks, which do not contain any
repetition of pal pal pandigitals. I am highly grateful to you for
the liberty and opportunity, which I have voluntarily taken to
participate in this intricate 'palindromic pandigital wheel' topic.



Here are the data presented in spreadsheet format
for easier handling.

#
Pal1
Pandigital
Pal2
BFW 42
BSR
Sorted
Pandigitals
1
66666
2350176498
35253
1236540879
2
35253
2314570968
65656
1253849076
3
65656
5968721304
90909
1325784069
4
90909
1937452608
21312
1409876352
5
21312
2094735168
98289
1432689057
6
98289
3941782056
40104
1467908352
7
40104
3046179528
75957
1493756082
8
75957
1503264987
19791
1503264987
9
19791
1635290748
82628
1620583794
10
82628
3864015792
46764
1635290748
11
46764
3750846912
80208
1937452608
12
80208
3021675984
37673
1937452608
13
37673
1236540879
32823
2056179438
14
32823
2546309871
77577
2061457398
15
77577
3157694208
40704
2094735168
16
40704
1467908352
36063
2314570968
17
36063
1325784069
36763
2350176498
18
36763
2350479168
63936
2350479168
19
63936
1937452608
30303
2430875691
20
30303
1493756082
49294
2546309871
21
49294
3107296584
63036
2649873501
22
63036
1253849076
19891
3021675984
23
19891
1432689057
72027
3046179528
24
72027
4896107352
67976
3082956714
25
67976
6289751304
92529
3107296584
26
92529
2056179438
22222
3157694208
27
22222
1620583794
72927
3456297108
28
72927
2430875691
33333
3506429817
29
33333
2649873501
79497
3750846912
30
79497
5701286349
71717
3798046152
31
71717
5874913206
81918
3864015792
32
81918
3798046152
46364
3941782056
33
46364
3456297108
74547
4608197352
34
74547
4608197352
61816
4896107352
35
61816
6125903784
99099
5701286349
36
99099
2061457398
20802
5874913206
37
20802
1409876352
67776
5968721304
38
67776
6291578304
92829
5973140268
39
92829
3506429817
37773
6125903784
40
37773
3082956714
81618
6289751304
41
81618
7312809564
89598
6291578304
42
89598
5973140268
66666
7312809564
| | | | | |
| --- | --- | --- | --- | --- |
| L | 16461 | 1027594386 | 62426 | General Lowest |
| H | 97479 | 9738054621 | 99899 | General Highest |
#
Pal1
Pandigital
Pal2
BFW 25
PK
Sorted
Pandigitals
1
77777
1406285937
18081
1205387946
2
18081
1205387946
66666
1236540879
3
66666
2350176498
35253
1253849076
4
35253
2314570968
65656
1325784069
5
65656
6293718504
95859
1406285937
6
95859
3195268047
33333
1432689057
7
33333
3084269157
92529
1467908352
8
92529
6289751304
67976
1493756082
9
67976
4896107352
72027
1539284607
10
72027
1432689057
19891
1635290748
11
19891
1253849076
63036
1937452608
12
63036
3107296584
49294
2314570968
13
49294
1493756082
30303
2350176498
14
30303
1937452608
63936
2350479168
15
63936
2350479168
36763
2546309871
16
36763
1325784069
36063
3021675984
17
36063
1467908352
40704
3084269157
18
40704
3157694208
77577
3107296584
19
77577
2546309871
32823
3157694208
20
32823
1236540879
37673
3195268047
21
37673
3021675984
80208
3750846912
22
80208
3750846912
46764
3864015792
23
46764
3864015792
82628
4896107352
24
82628
1635290748
19791
6289751304
25
19791
1539284607
77777
6293718504